Triangular projects are dealing with the development of new materials and new products.
Before they are introduced to the market there is a long way between the R&D, scale up, piloting and production stage. And often an interesting story behind their creation & founders.
We had the pleasure of talking to Erik Wöller from DermaPurge GmbH about their innovative company and the unique skin cleansing products.
How did you come up with the idea of Derma Purge ?
It started with an accident in the laboratory. Two of our founders were doing their PHD at the Leibniz Institute for Polymer Research in Dresden. In one of the laboratories where research on nanoparticles is carried out, a typical work accident occurred.
Cadmium selenide particles dissolved in chloroform ran over the glove under the coat of an assistant. Because these special nanoparticles glow under UV light, we could see very clearly that conventional skin cleansers had failed completely.
In typical chemist fashion, our scientists set out to solve the problem themselves and, after a long development, found a formula that can remove the smallest particles down to 4 nanometers from the skin.
To turn the gel into a product and bring it to market, the two then sought commercial support and together founded DermaPurge.
Who are your typical customers?
Our customers deal with hazardous substances, fine powders or dusts in their working environment. One customer segment are research laboratories, where employees only come into contact with such materials through work accidents. Here, our first product nano-ex is part of the first aid equipment for decontamination of the skin.
Our second product powder-ex is used, for example, where daily or regular decontamination of fine powders or grinding dust is necessary. This is the case, for example, in additive manufacturing with powder bedding processes or in milling, drilling, welding, polishing of metal.
Also, in the pharmaceutical industry, or when working with cement and when manufacturing paints and varnishes, large quantities of very fine powders are used, which potentially pose health risks if they are not removed effectively and safely from the skin of the employees.
The third area are occupational groups that regularly come into contact with PAHs. These are carcinogenic substances found in fire residues. Firefighters, chimney sweeps and foundry workers in particular have to decontaminate their skin after each contact.
What are the main benefits of your skin cleansing products?
All our products follow two important requirements. Especially when dealing with hazardous substances, it is of course very important that decontamination is effective in removing the materials from the skin.
Studies show that especially small particles, dusts and carcinogenic PAHs can only be removed from the skin very inadequately with currently used products such as soap, surfactants or solvents.
DermaPurge products are designed precisely for the decontamination of these substances and are therefore very effective in this area.
For example, pak-ex can remove 96% of all PAHs from the skin, while nano-ex and powder-ex can even remove over 99% of all fine particles from the skin.
The second important point is that conventional cleansers attack the skin barrier, for example by making the skin more permeable to hazardous substances through so-called penetration enhancers.
DermaPurge products, on the other hand, are free of such substances and leave the skin barrier completely intact. They are therefore particularly well suited for removing hazardous substances from the skin.
What are the differences between pak-ex, nano-ex and powder-ex?
pak-ex is specially designed to clean carcinogenic PAHs from the skin.
powder-ex and nano-ex are optimised for binding and washing off the smallest particles.
powder-ex is designed for daily decontamination in production and workshops, dusty environments.
nano-ex is typically used as a first-aid solution in laboratories in the event of an occupational accident involving particles.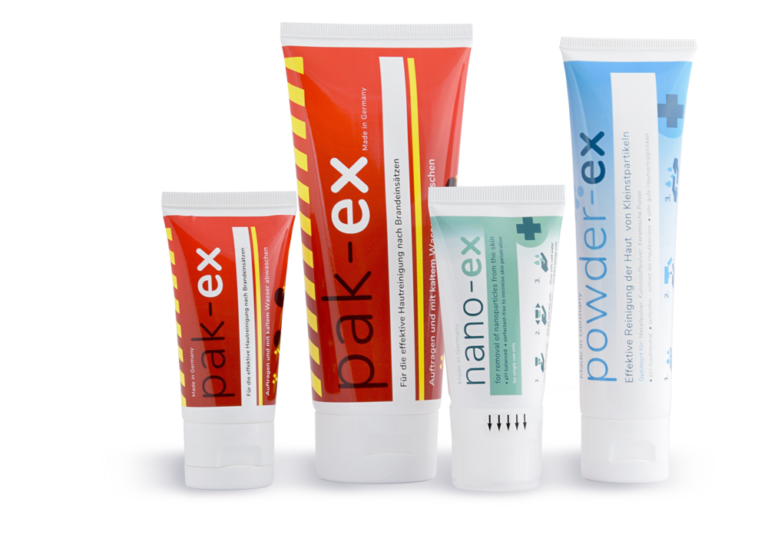 Is there any similar product on the market?
No. Our products are unique when it comes to effectiveness in decontamination for our customer groups. In addition, we completely avoid the use of penetration enhancers.
Where can we buy your products?
Our network of distribution partners is growing constantly. We are currently in the process of onboarding a network of specialist dealers and system suppliers in the field of occupational safety.
Pak-ex can be purchased through all major fire equipment dealers.
For powder-ex and nano-ex, you should contact your supplier of protective equipment and hygiene supplies, such as IGEFA, GVS or PCH. They will be happy to supply you with our products.
What are the next milestones for DermaPurge team ?
With the help of our distribution partners, we want to make our products available to all employees and colleagues who work with hazardous substances and will benefit from our products in occupational safety.
In the long term, the aim is to rethink decontamination in occupational safety and to establish our technical skin cleaning products as the standard in the relevant industries.
Where can we meet you on the road soon?
Our next stop is the European Coatings Show in Nuremberg from March 28 - 30.
Here we will be on the road with our partner Bassermann Minerals to meet customers.
In mid-April we will also be at Engineered Parts & Solutions Hannover with our additive manufacturing partner IGO3D.
We are looking forward to meeting you.
_________________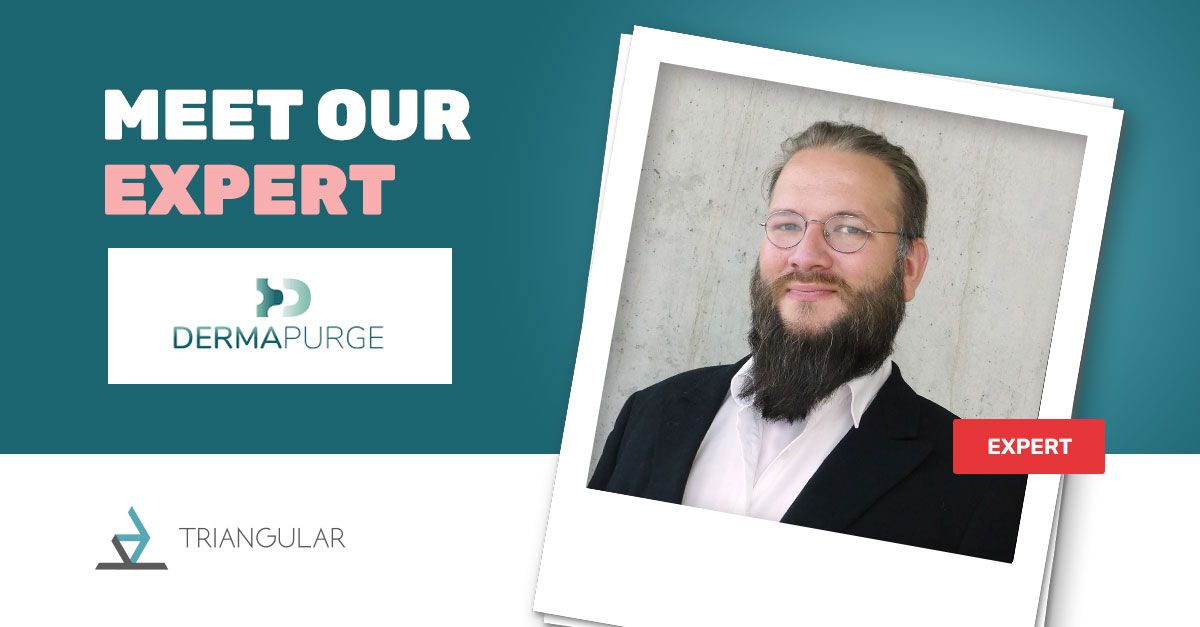 Erik Wöller
Sales Manager powder-ex, nano-ex
woeller[at]dermapurge.com
+49 1575 2127635
Erik Wöller supports DermaPurge since 2021 in sales and marketing. As Sales Manager, Erik is your point of contact for DermaPurge's innovative product solutions and looks forward to exchanging ideas to find the best results for our partners and customers. With his experience in e-commerce and publishing, he complements the team with a focus on further increasing the publicity of DermaPurge.
______________________________________________
Would you like also to become a catalyst of innovative ideas and sustainable solutions?

Work on extremely interesting projects?
Help others to create tremendous value?
Share your vast experience to master challenges?
Make sustainable solutions a wonderful reality?

If yes, the next post might be about you and your company!

👇
Check also another articles from the #Expert On Demand serie
How To Find the Right Industry Expert
Wide Angle Analytics - GDPR compliant without cookies